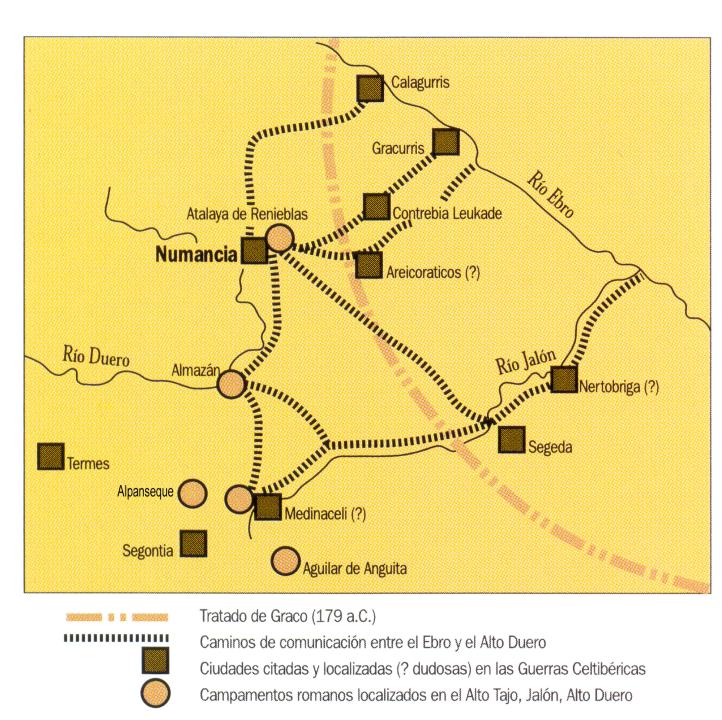 The conquest of Celtiberia by Rome took place during the second century BC Roman advances began elevations along the Iberian and Central Systems, reaching toward the 188-187, Calagurris (Calahorra) upstream of the Ebro, and having its base at the ends of Corbion and Segeda (El Poyo de Mara, Zaragoza). The Roman victory over the Celts in the Battle of Mons Chaunus (Moncayo "?) And Complega making in the 179, led to the treaty of Graco, which achieved a lasting peace, reconciling some requests Celtiberian (land division) with Roman requirements (payment of tribute, military service obligation, not to build new cities and strengthen existing ones, and granting some Indian cities the right to coin money). Finally, Graco founded a new city, Grachurris (Alfaro), at the mouth of the river Alhama, to protect the border of the conquered territory.
At this time the area controlled by Rome did not exceed Segeda (El Poyo de Mara, Zaragoza), south of Moncayo, or Arekorataz north of this mountain (in the town of Wall in Soria, which was then set up as Augustobriga) them had been granted the right to coin silver, and represented the Roman support to continue the conquest. Still remained outside Roman control the Alto Tajo, Alto Jalon and Upper Douro.
Since the peace signed with Graco, the domestic economic and social situation of the Celts got worse by the constant pressure and abuse by Roman administrators. In the year 154 BC, the city of Segeda wall begins to expand and build up grade and force their neighbors Titos, so that Rome accuses the city of violating the treaty, declaring war and sending, leading Nobilior, a consular army of 30,000 men. As segedenses, they had finished the wall, leaving their city and ask for help from Numancia, where they are welcomed as allies and friends, pointing Floro that "thus came Numancia unjust war" and thus start Celtiberian wars, led Numancia, which will end with its destruction and conquest of Celtiberia in 133 BC.
---